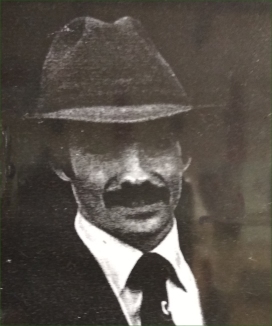 The late Paddy Melia
The 2017 Paddy Melia Memorial Tournament took place in Dick Hearns Training and Fitness Centre, Ballina on Sunday 24th September. The family of the late inspirational Paddy Melia donated a trophy to his memory to Ballina Boxing Club, and it is most fitting for boxers and athletes of all kinds to have his words of wisdom passed on. He always encouraged the youth, be they his own family or any other he came into contact with, to put in the hours of training in order to be able to compete at the best possible level. Those who followed his guidance were well rewarded, and in boxing, his own sons P. J. -- Mayo Boxing Board Hall of Fame recipient -- and Frank were legends in their day while Stephen, John and Dermot concentrated with much success on basketball. The recipient of the Paddy Melia Memorial Trophy 2017 is new-comer Michael Owen Collins, a leader and true follower of the Melia plan to be the best athlete one can be. Other recipients over the years were Dylan Lavelle, Caroline McDonagh and Stephen Lawrence.
Mr. Pat Ryan, President IABA, attended the 2017 tournament and he was delighted with proceedings. He was highly impressed with the smooth flowing of the competition and the co-operation received from the audience, the officials, boxers and coaches. On spotting Brian Rocky O'Donnell's international certification as a first-aid giver on display on the gym wall, he remarked that, with younger coaches like Rocky taking up the coaching/mentoring challenge, all will be well with boxing in Ballina for many years to come. Brian Rocky O'Donnell is currently leading the drive to fund a defibrillator for the gym: he is a trained operator of this specialized unit. Ballina Boxing Club would like to thank Mayo Boxing Board for nominating the following officials for the tournament: Peter Mullen, Tournament Inspector (St. Anne's); Pat McDonagh R/J (Geesala), Charlotte Murray R/J (St. Anne's), Jenny Murray R/J (Eagle), and the club would also like to thank Mr. Billy Rice R/J (Knockmore/Foxford) and Mr. Eddie McDonnell R/J (Fenchpark) for officiating. Medical: Gillian Lavelle. Special word of thanks to Joe Lavelle of The Merry Monk for sponsoring the event.