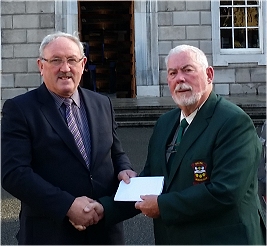 Joe Lavelle receiving cheque from Vincent Hearns, PRO, Ballina Boxing Club
The club has pledges of donations from a number of the boxing faithful and from those who see the future and value of the sport in Ballina.
Any additional support would be gratefully accepted.
In 2011, the centenary of the Irish Athletic Boxing Association, every boxing club in the country was asked to mark the occasion in some unique way. Clubs could avail of a special small grant specifically for upgrading changing rooms, and Ballina Boxing Club took the bold step to enter a lease agreement to have a state-of-the-art facility made available to the club. The Hearns family was approached and they agreed to have their late father's name incorporated into the name of this new gymnasium. The facility was opened by the family in 2012 and the boxing certificates awarded to the late Dick Hearns during his career as a boxer were presented to the club. A life-size photo of Dick Hearns on the landing at the club entrance greets all who enter the premises. It is a reminder of what a Ballina native can achieve and will show the path to a healthy, happy, fruitful life to all touched by this great yet very humble gentleman who listened to the huge variety of voices from the powerful, ever-rolling River Moy each time he opened his window or door all those years ago.
In 2015, well into the 4th year of our 10-year lease, Ballina Community Sports Centre offered a 50-year lease on a site for a training arena on their grounds. Once again, the Hearns family were contacted, and to the surprise and delight of our members, Vince Hearns offered to fill the vacant PRO position -- the offer was very gratefully accepted.
Vincent, well versed in business administration and PR, got to work immediately on a business plan. He also auctioned a gold medal which had come into his possession as a gift many years ago: the photo on the left shows him presenting the proceeds of the sale to club treasurer, Joe Lavelle (seen on the left) outside Dáil Éireann in November 2016.
Planning permission is in place for the new arena since 2015 and, all going well with grant aid, building of the new facility will commence early in 2018.
Email Vince: willows@eircom.net